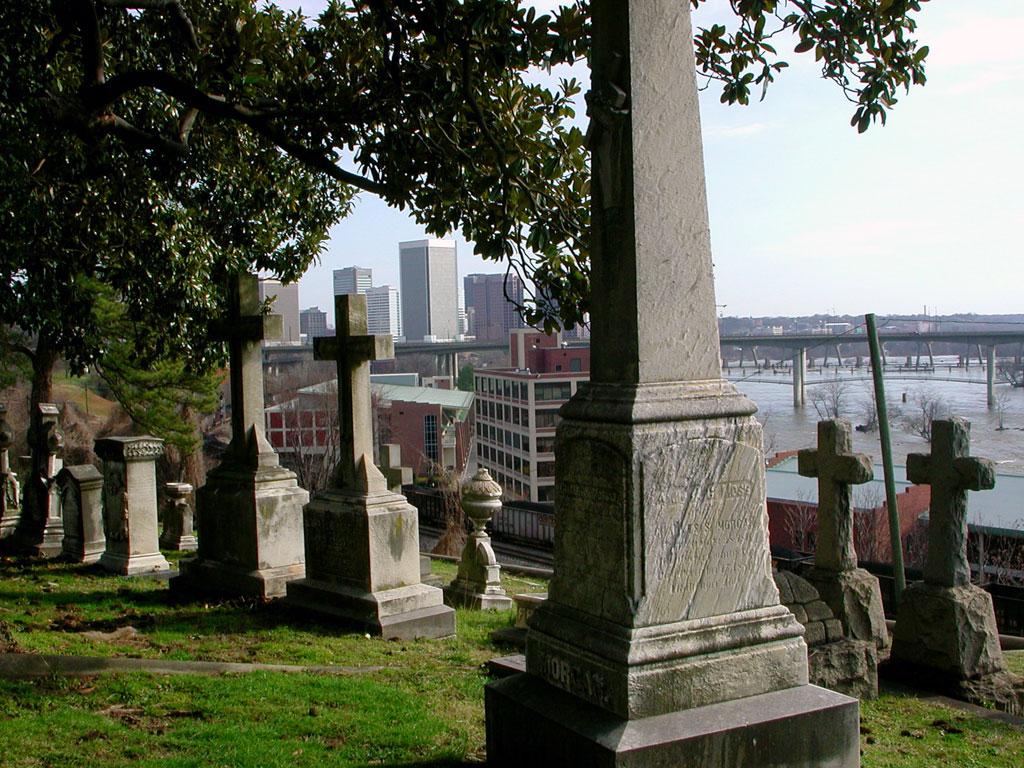 Established in 1847, Hollywood Cemetery is a fully operational cemetery located in Richmond, Virginia. Designed in 1847 by noted architect John Notman of Philadelphia, Hollywood Cemetery is known as a garden cemetery, a landscape style that became popular in the 19th century. Located on the banks of the James River in the state capital of Virginia, the cemetery spans 135 acres of valleys, hills, and stately trees. Its natural and architectural beauty sets it apart from the grid-like layout of modern cemeteries and its natural beauty has earned its recognition as a registered arboretum.
Presidents Circle in Hollywood serves as the final resting place for the 5th President of the United States, James Monroe, and the 10th President of the United States, John Tyler. In 1968, James Monroe's Gothic Revival cast iron canopy, commonly known as "the Birdcage" was registered as a National Historic Landmark by the National Park Service. This recognition elevated Hollywood Cemetery to one of the most prominent places of burial in the state of Virginia.
Throughout the years, numerous notables have been laid to rest within the cemetery, including six Virginia governors, two Supreme Court justices, prominent authors, suffragists, and many deceased loved ones from the Richmond community and beyond. In 1953, the Hollywood Cemetery board designated an official list of 49 notables within the cemetery who have significantly influenced the course of history due to their actions or opinions.
Hollywood Cemetery continues to operate as a working cemetery with burial options available for purchase, including lots, cremation niches, and a scattering garden. Funerals are held Monday through Saturday. Today, Hollywood Cemetery ranks as one of the most-visited cemeteries in the state of Virginia. The stories and beauty of Hollywood continue to bring visitors from all around the world. More than a cemetery, this spectacular outdoor museum is a living story in stone, iron, and landscape. The skillful design, faithful stewardship, and natural beauty have made it one of the most historic and beautiful cemeteries in the United States.
Save